• Boiler fill valve check • Pressure relief valve check • Check pressure temperature gauge
• Check pilot light/ignition assembly • Check burner • Zone valve check • Expansion tank
If you have a cast iron boiler that is over 20 years old, it's a good time to replace it with a fuel efficient, state of the art, modulating condensing boiler.
Jeff has gone through training seminars to install the following boilers:
OTHER BOILERS THAT
JEFF'S PLUMBING SELLS & SERVICES:
HTP | Burnham | Prestige
Lochinvar Knight
We do radiant floor and baseboard hot water heat systems. We use modern modulating condensing boilers to insure a heat system that can save you up to 40 percent over a standard cast iron boiler.
Below are pictures of radiant heat tubing in driveway for ice melt and garage heat.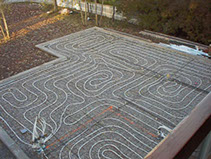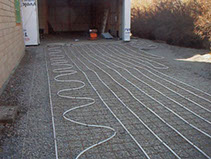 Snow Melt Tubing and Radiant Floor Heat for Garage and Driveway